Italy is famous for its food and wine, as well as its fashion designers, opera houses, and magnificent Renaissance art and history. Part of the country experiences an exquisite mediterranean climate, and its varied topography includes mountains, coastline, and plenty of vineyards.

The center of Italy is located at 41.87 degrees North latitude and 12.57 degrees East longitude.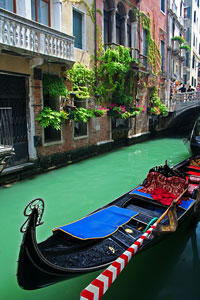 In northeast Italy, the city of Venice is well-known for its romantic labyrinth of waterways. It encompasses 117 small islands in the Venetian lagoon which are connected by over 400 bridges and surrounded by 177 canals. Its buildings are constructed on wood piles which have petrified in the mineral-rich water. Take a peaceful gondola ride to Piazza San Marco, a picturesque public square with cafes, shops, and plenty of pigeons. Stay at the Hotel Ai Do Mori overlooking the cupolas of St. Mark's Basilica and stop by the nearby Rialto Markets for fresh fish, fruits and vegetables, and exotic wares. Late October through April is the best time to enjoy Venice.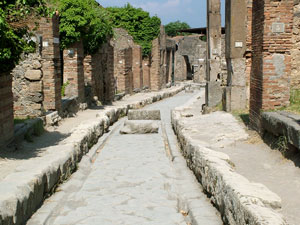 Pompeii in Campania, Italy, features some of the world's most famous ruins, which were left behind after the eruption of the volcano Vesuvius in A.D. 79. Although two- thirds of the city remains buried, intricate mosaic floors and frescoed walls are still visible, pointing to its former opulence. An audio guide can help make the most of your time in Pompeii, which is located 15 miles southeast of Naples, and 147 miles southeast of Rome. Pompeii can be viewed year-round, but avoid crowded weekends and hot summer afternoon hours.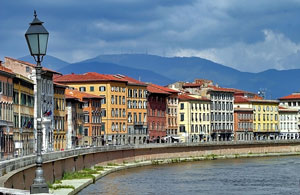 Located in Tuscany, Florence is known as the "birthplace of the Renaissance", and is quintessentially Italian with its cobbled streets lines with cafes, medieval towers, and stunning piazzas. The Bargello Museum features Florence's greatest collection of Renaissance sculpture. Peruse works by Michelangelo, Donatello, Cellini, Giambologna, Luca, and Giovanni della Robbia, as well as Oriental rugs and medieval weaponry. The Galleria Dell'Accademia is where you will find Michelangelo's famous David sculpture. Stay at the plush 19th century Hotel Helvetia and indulge in some sumptuous cavatelli at the world-class Enoteca Pinchiorri.
Italy is a cultural destination thriving with history and abounding with museums, art galleries, medieval churches, and gourmet cuisine. Breathtaking countryside, vineyards, and quaint bed and breakfasts represent some of Italy's more rural offerings, showing that there truly is something for everyone here.
---
Copyright © 2010-2023 Map-Of-Italy.org. All rights reserved.

Italy Address Locator Map